Mineral surfaces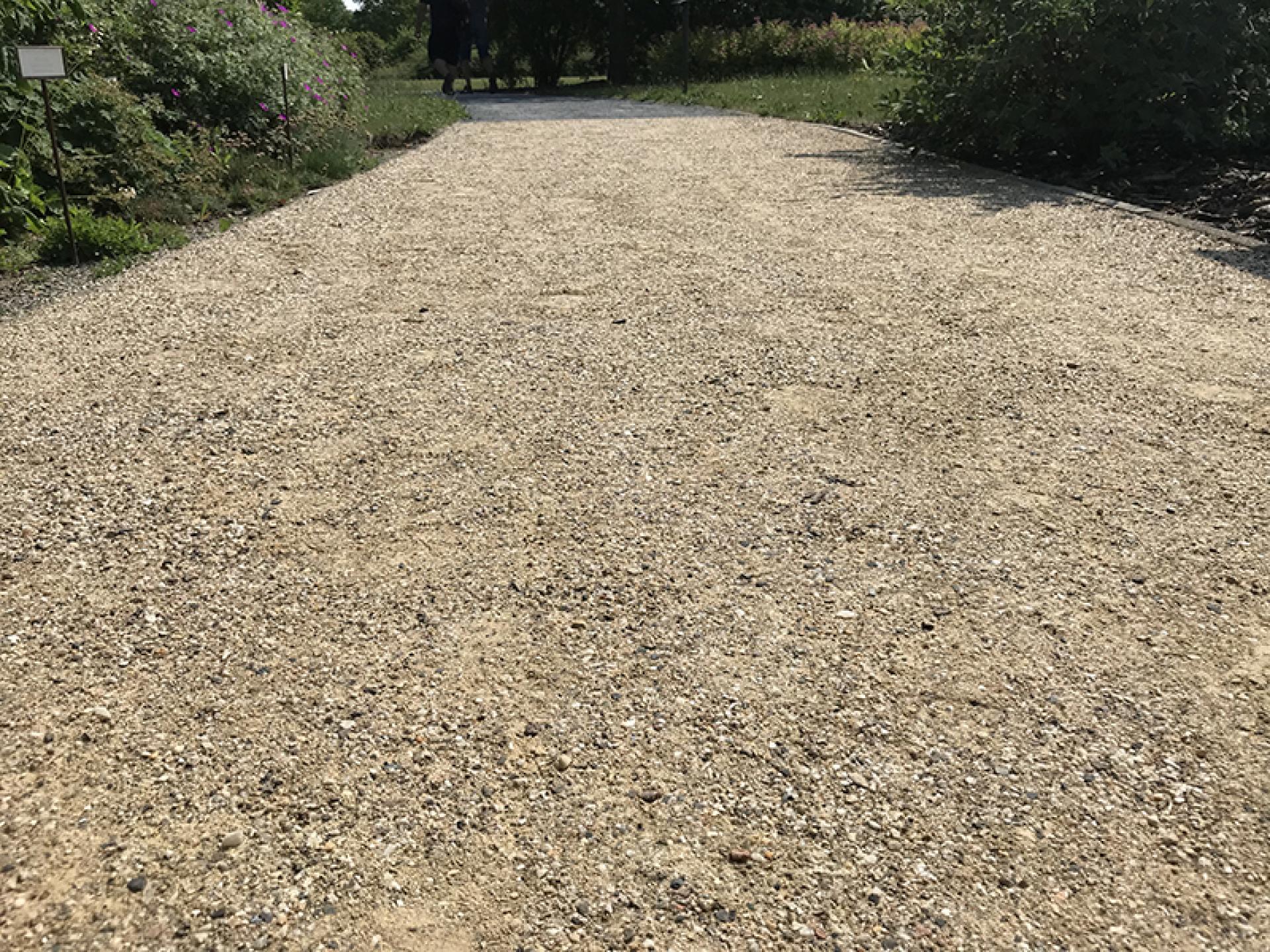 Mineral pathways and surfaces had been constructed since the Middle Ages. They were first used in castle gardens and parks, but they were also used for road making. Parkdecor is a revolutionary material that meets the standards and is the only one suitable for use not only on footpaths, but it can also carry service vehicles with a load of up to 7.5 tons.
Marble surfaces originated first on mills where the grains of wheat were threshed. It was necessary to create a surface to allow easy grain collection. The mechanical compaction, that gave rise to this surface, was later applied by people on footpaths and pavements, later on horseback carriages. Today they are used mainly in parks and ornamental gardens at castles or other historical and private settlements.
Where mineral surfaces can be used
Standard waterbound pathways are specially designed for pedestrians, especially because of low scratch, shear and erosion resistance. Thanks to Parkdecor, however, it is possible to create a mild surface that can easily borne cyclists, service technicians or cars. It has a bearing capacity of 7.5 tonnes and therefore it will last long time. The surface of Parkdecor can be used in castle gardens, public parks, but it is also popular for cycle paths, sports grounds, private driveways and parking. Moreover, this material is not dusty, which is especially appreciated by runners and cyclists. Thanks to its regenerative properties on bicycle paths it does not leave any unevenness or holes. In addition, in winter, it does not hold water, so it will not be damaged during partial melting and therefore it will look great through the whole year.
Disadvantages of old mineral surfaces
Waterbound pathways look great if they receive regular maintenance. Apart from regular amortization, weather conditions and material erosion occur as well. If the subsoil is poorly prepared, the surface will not last. Parkdecor can solve these problems.
If you need a milling surface of a particular color, you need to find not only the quarry where the material is mined. You must also make sure that the material has the correct composition that is required for the surface. Another problem occurs during maintenance when the stone of certain colour is mined out. Finding a similar is often unrealistic. The stone additionally "ages" and the color gradually changes. If you are considering a standard milling surface, prepare a few tons of material in stock. However, with Parkdecor, we are sure that your waterbound pathway will be color-stable and we will always deliver the same material for maintenance. You can find out the proof yourself at Moritzburg Castle where the Cinderella movie was shot and where the surface is over 20 years old.
Mineral surfaces require maintenance, because they are amortized by the operation and erosion of the material. When building, you must consider the slope of the terrain and possibly prepare the drainage system, or even sewerage. Nevertheless, we can sometimes not prevent the plant's growth from spreading the material, because to some extent the milling surface always retains some water. Parkdecor is waterproof and does not need such modifications. Thanks to water permeability, erosion (drainage) of material is significantly lesser. It can also be easily repaired because it is more durable than a classic mineral surface and therefore does not create any profound inequality. Regular damage is repaired itself over time.
The key to the correct realization of the mineral surface is always the most perfect preparation of the subsoil and compaction in each production phase. In the production of the ground surface, the protective (lower), the underlying dynamic (medium) and the rubbing (top layer) are used. If the surface is not really thoroughly prepared, it may occur at the common ground surface that the undercoat can be seen over time. Some grains, at the slightest unevenness in the presence of water, find their way up and the aesthetic impression is gone. It is then necessary to disassemble and recreate such a surface.
But if you use Parkdecor, we will also give you a dynamic (medium) layer of the same color. If there is a problem, the materials are well correlated, and usually do not occur on the surface of the aggregate. However, if this occurs (and again, it is recalled that only under poor subsoil production), this phenomenon can not be seen with Parkdecor.
How the mineral surface is properly created
We unload the soil under the future path
We flatten and compact the surface
Put the geotextile if necessary
Lay the protective stone layer
Thoroughly level and compact the subsoil
Place the underlying dynamic layer
Again, we straighten and compact
We will spread the Parkdecor layer, which is also called the rubble layer
We are flattening the surface and compacting again